EARTH DAY FLAGS TO SUPPORT VERMONT FARMERS
How are those flags coming? Wednesday is Earth Day and NOFA is suggesting we all make flags that include:
"VERMONT FARMERS FEED US ALL (or a similar message of your choice) and decorate with drawings of farmers in your community, local foods you love or signs of spring like peepers, robins and green grass!"
https://nofavt.org/blog/make-earth-day-flag-celebrate-vermont-farmers
Show them off during our Wednesday morning zoom (10-12) and post them on the library's facebook page. We will award 2 prizes. Winners will be randomly selected from all zoom participants and posts to the facebook page by midnight Wednesday April 22. Please tag @nofa-vt, so they can see your work too! (Don't do facebook? Send us the photo and permission to post (we can do it anonymously if you prefer). Don't have fabric and paint? We will happily accept a drawing too!
Wednesday ZOOM Invite:
https://us02web.zoom.us/j/601500564?pwd=VE1XdmwvYmppSkx2Z1UwSmJoZW1oZz09
PRIZES! DID WE TELL YOU THERE ARE PRIZES?

We are so excited to see what sort of flags you will design that we are offering TWO PRIZES!! Everyone who stops in for Zoom Hours tomorrow to show off their flags will be entered in a drawing.  You will also be entered if you post a picture on or facebook page – do both and you are entered TWICE!!

$15 Gift Certificate from Cross Farm

$15 Gift Certificate from Peacham Café
---
As seen on TV…..
This week you may see some very short television spots on WCAX, about free services offered to ALL Vermonters through their library. These services are paid for by the state, at no cost to the library. Each day we will feature details about one of them.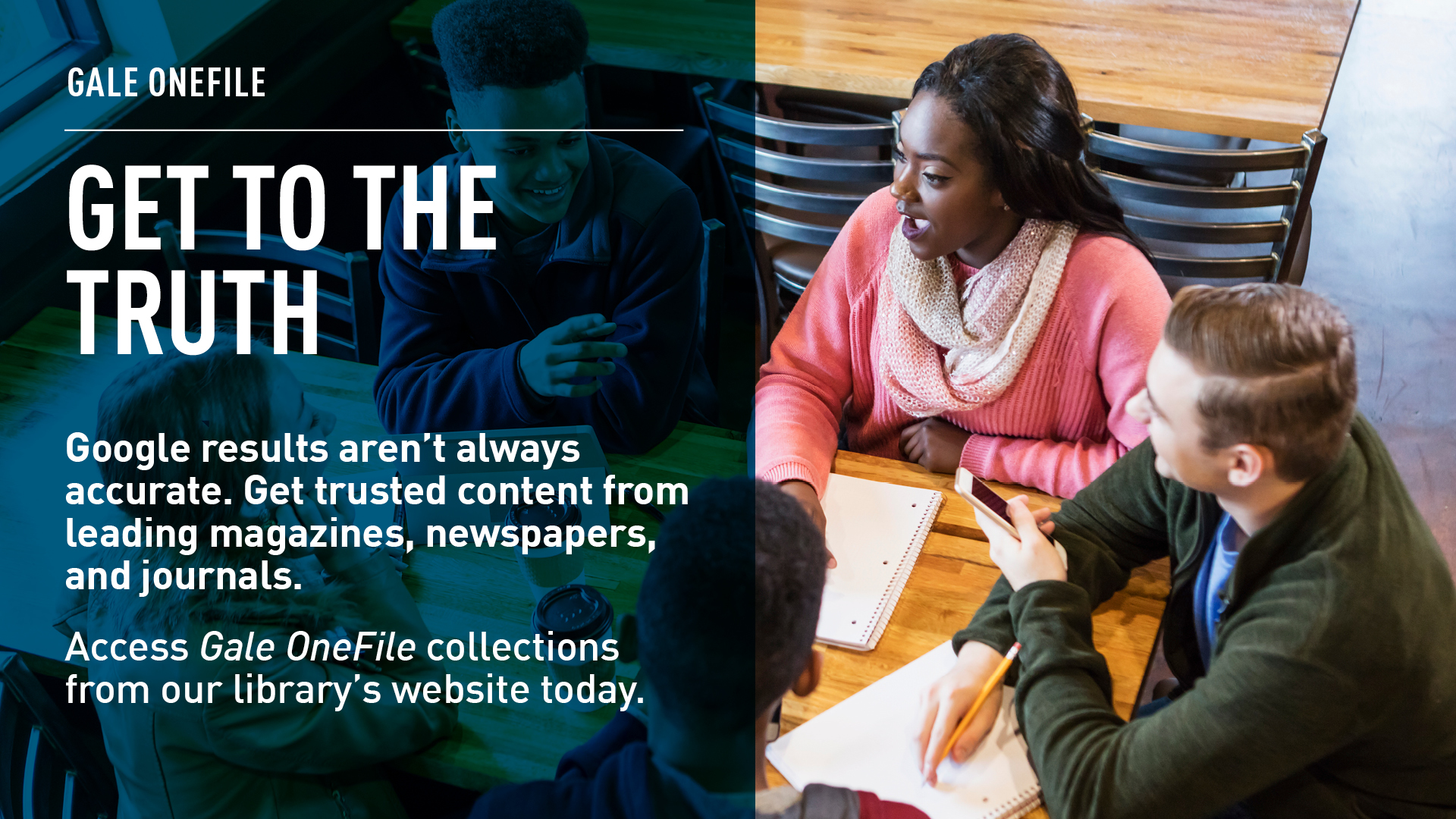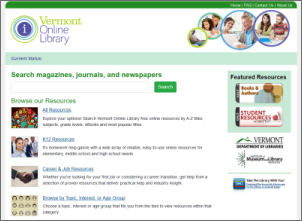 The Vermont Online Library (VOL) offers a wide array of electronic databases through Gale/Cengage on a variety of topics geared to a variety of age levels, for both generalists and specialists. These resources are available 24 hours-a-day anywhere Internet access is available. The information is produced by known and trusted publishers.

Can You Read Articles from a Specific Newspaper/Magazine?
Users can read articles by issue from many popular magazines, including The New York Times, Washington Times, Economist, Cosmopolitan, Esquire, Highlights for Children, National Review, and Runner's World. Articles may be a day or two behind. Some other magazines are available, but have an embargo period (often 1, 6, or 12 months), or stopped availability at some point. Admittedly, it is not as tidy as reading the actual magazine, but users do get all of the information!
Go to the VOL site
Choose All Resources and then Popular Magazines
On the right, Click Go To Publication Search, and enter the magazine/newspaper you're looking for.
Click on the magazine/newspaper you want, and select an issue by date. You'll see all of the articles in that issue.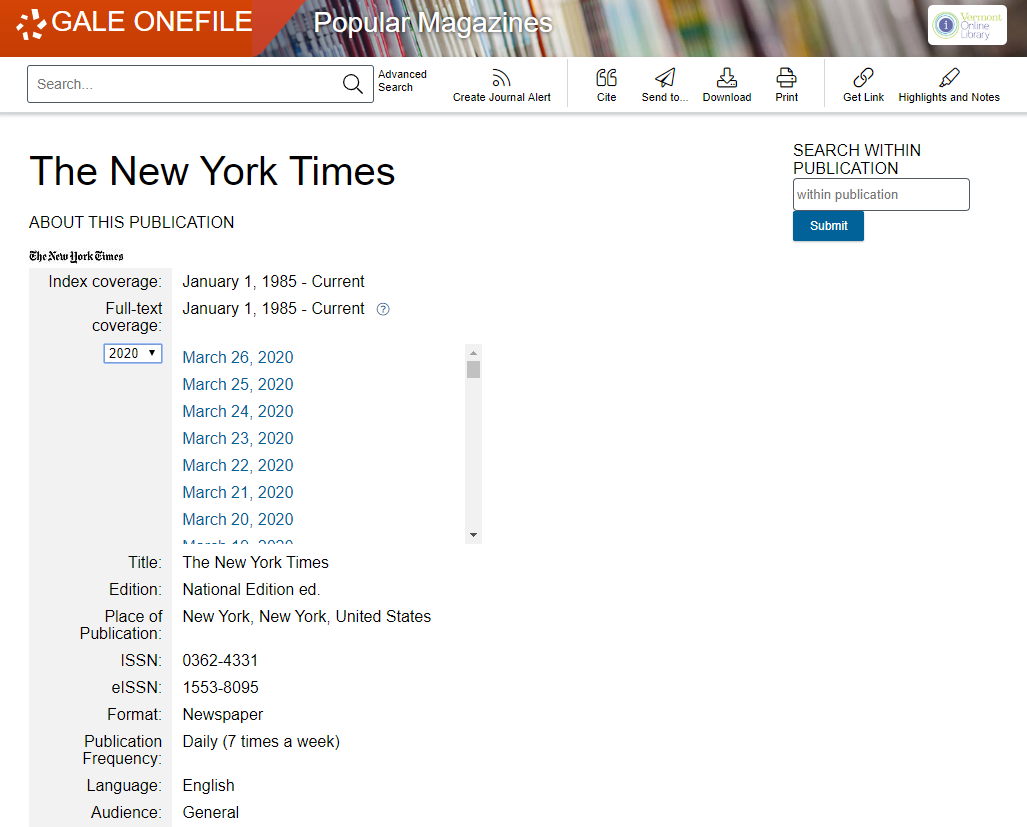 ---
On April 20 the American Libr
ary Association (ALA) released the State of America's Libraries 2020 report, an annual summary of library trends released during National Library Week, this year April 19–25, that outlines statistics and issues affecting all types of libraries during the previous calendar year.
The report found that the popularity of libraries in 2019 continued to soar. According to a recent Gallup poll, visiting the library is the "most common cultural activity Americans engage in by far." In 2019, US adults reported taking an average of 10.5 trips per year to the library, a frequency that exceeded their participation in other common leisure activities like going to the movies, a museum, or the zoo.
The best proof that public libraries are about more than just books is their evolution into libraries of things, offering nontraditional collections that are community-specific and imaginative. The wide array of items available to check out includes air mattresses, dolls, bicycles, binoculars, and accordions.

Read the full report here State of America's Libraries