TODAY'S THE DAY TO POST YOUR EARTH DAY FLAGS!!
Zoom hours:  On Wednesday from 10 am – 12 noon, staff will be available via a ZOOM connection. 
Call in for Earth Day – Show off your flags or come to see all the flags!
There is a call in option, for those without a computer. It is a long distance call, but the library will be happy to reimburse you.
(invitation here)
Invitations can also found on the Library's Calendar.
Post your flags on the library's facebook page too. We will award 2 prizes. Winners will be randomly selected from all zoom participants and posts to the facebook page by midnight Wednesday April 22. Please tag @nofa-vt, so they can see your work too! (Don't do facebook? Send us the photo and permission to post (we can do it anonymously if you prefer). Don't have fabric and paint? We will happily accept a drawing too!
PRIZES! DID WE TELL YOU THERE ARE PRIZES?

We are so excited to see what sort of flags you will design that we are offering TWO PRIZES!! Everyone who stops in for Zoom Hours tomorrow to show off their flags will be entered in a drawing.  You will also be entered if you post a picture on or facebook page – do both and you are entered TWICE!!

$15 Gift Certificate from Cross Farm

$15 Gift Certificate from Peacham Cafe
It's not too late – anyone who post a flag (or flag design on paper) will be eligible for the drawing!NOFA has suggested we all make flags that include:
 "VERMONT FARMERS FEED US ALL  (or a similar message of your choice) and decorate with drawings of farmers in your community, local foods you love or signs of spring like peepers, robins and green grass!"
https://nofavt.org/blog/make-earth-day-flag-celebrate-vermont-farmers
But, you don't need a reason to stop in virtually and say hi – we miss seeing everyone! You can also ask questions about ListenUp or any of our new online serves. Don't have a library card? You can talk to us about that (For your privacy, we will ask for your personal details offline and after the meeting.)
---
As seen on TV…..
This week you may see some very short television spots on WCAX, about free services offered to ALL Vermonters through their library. These services are paid for by the state, at no cost to the library. Each day we will feature details about one of them.

Universal Class
Universal Class is an online learning platform offering over 500 continuing education courses on a diverse array of topics. All Vermont public libraries and their patrons have access to Universal Class through the Department of Libraries.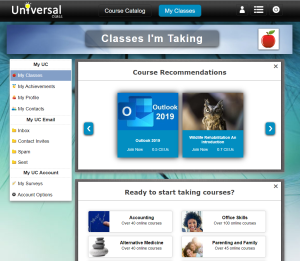 What does Universal Class Offer?
The site offers a wide-range of courses, from office skills to algebra, baking to self-help, and spiritual studies to painting. The classes are generally meant for high school-age patrons and older. Though classes are not for college credit, they are led by a real instructor with whom you communicate through the site. Courses allow you to proceed at your own pace, working on assignments anytime, day or night. You have up to six months to complete a class and can enroll in up to five classes at a time.
How Do I Register?
To get started, go to the registration link.
Next, enter the number on your library card, and then fill out a registration form with your name, email address, and password, which you will use whenever you log in from now on – you only need your library card number once! Then you will receive an e-mail with a link to confirm their registration.

Don't know your library card number? Just email the library and we will be happy to help.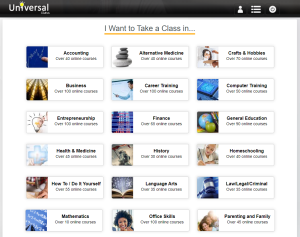 How do I Use the Service?
Login by going to https://vermontstate.universalclass.com and use your email address and password. You can search through available classes by title or topic area. Each course will show the number of assignments and estimated amount of time it should take. Once you join a course, you can reach it under My Classes.
Problem – Asking for a Fee?
If a you ever encounters an issue where the site looks like it's going to charge you to take a class, you may have registered as a general user rather than a library user. Please use the links in this email or on the website. Please contact the library if you need help!
Categories of Courses
Accounting, Alternative Medicine, Arts, Crafts & Hobbies, Business, Career Training, Computer Training, Entrepreneurship, Finance, General Education, Health & Medicine, History, Homeschooling, How To / Do It Yourself, Language Arts, Law/Legal/Criminal, Mathematics, Office Skills, Parenting and Family, Personal Development, Pet and Animal Care, Psychology, Real Estate, Science, Self-Help, Social Work, Special Education, Spiritual Studies, Teacher Resources, Test Preparation, Web Development, Writing Skills