This is a free services offered to ALL Vermonters through their library. These services are paid for by the state, at no cost to the library.
Universal Class is an online learning platform offering over 500 continuing education courses on a diverse array of topics. All Vermont public libraries and their patrons have access to Universal Class through the Department of Libraries.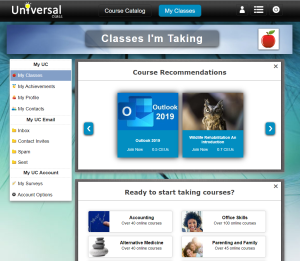 What does Universal Class Offer?
The site offers a wide-range of courses, from office skills to algebra, baking to self-help, and spiritual studies to painting. The classes are generally meant for high school-age patrons and older. Though classes are not for college credit, they are led by a real instructor with whom you communicate through the site. Courses allow you to proceed at your own pace, working on assignments anytime, day or night. You have up to six months to complete a class and can enroll in up to five classes at a time.
How Do I Register?
To get started, go to the registration link.
Next, enter the number on your library card, and then fill out a registration form with your name, email address, and password, which you will use whenever you log in from now on – you only need your library card number once! Then you will receive an e-mail with a link to confirm their registration.

Don't know your library card number? Just email the library and we will be happy to help.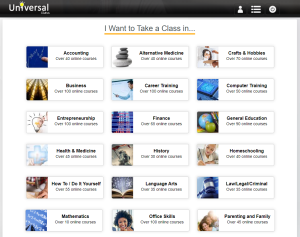 How do I Use the Service?
Login by going to https://vermontstate.universalclass.com and use your email address and password. You can search through available classes by title or topic area. Each course will show the number of assignments and estimated amount of time it should take. Once you join a course, you can reach it under My Classes.
Problem – Asking for a Fee?
If a you ever encounters an issue where the site looks like it's going to charge you to take a class, you may have registered as a general user rather than a library user. Please use the links in this email or on the website. Please contact the library if you need help!
Categories of Courses
Accounting, Alternative Medicine, Arts, Crafts & Hobbies, Business, Career Training, Computer Training, Entrepreneurship, Finance, General Education, Health & Medicine, History, Homeschooling, How To / Do It Yourself, Language Arts, Law/Legal/Criminal, Mathematics, Office Skills, Parenting and Family, Personal Development, Pet and Animal Care, Psychology, Real Estate, Science, Self-Help, Social Work, Special Education, Spiritual Studies, Teacher Resources, Test Preparation, Web Development, Writing Skills